ABOUT THE SHROPSHIRE CEILIDH BAND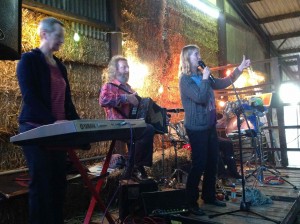 Shropshire ceilidh band, The Cuckoo Ale Band, provides lively English folk dance music for ceilidh dancing. Resident caller Bev Langton's instructions are clear and ensure that everyone has a great time. The band play mainly english folk dance tunes with a few Irish and Scottish thrown in for good measure as well as a number of tunes composed by band members. The Cuckoo Ale Band perform across the West Midlands for village halls, community groups, weddings and corporate events.
COMMENTS FROM OUR AUDIENCES
"I would certainly recommend you all to other groups and people have said how fantastic they thought you all were." Lilleshall Village Tennis Club
"A huge thank you to yourself and the rest of the band for such a great night. I have been inundated with calls today and the main theme has been the excellent performance of the band. Both the music and the calling (not to forget the clog dancer) were brilliant!" Newport Rotary Club.
"I've never done this before, it's awesome! Do you have to stop at one o clock, couldn't you be persuaded to go on to two?"
"Not just an ordinary band, an extraordinary band"
"We had a great evening-the band were obviously enjoying themselves and so did we!"